Sleepeezee
Sleepeezee has been making luxury beds and mattresses since the early 1900s. Through innovation and market leading mattress designs, Sleepeezee has grown into one of the most well known bed manufacturers in the world. Every Sleepeezee product is made at its factory in Rochester Kent, where over 300 expert craftspeople build bespoke beds to premium standards.
Stay cool gel layer which helps you stay cool whatever the season.
Edge to edge support
Made in the UK
The best in modern sleep technology and latest materials
5 Year guarantee on mattresses sold seperately
7 Year guarantee on complete divan sets.
---
---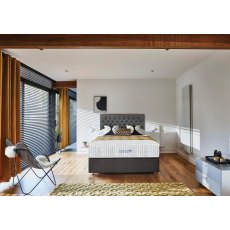 Sleepeezee Balance 1200 Plus
1200 pocket spring system StayCool layer keeps you cool and fresh all night long. Fully encapsulated spring unit provides edge to edge support ViroFresh technology that kills 99.9% of bacteria and viruses on contact for a more hygienic night's sleep Firm Comfort feel Choice of base colours FREE delivery and assembly in room of choice Headboard not included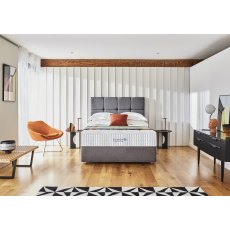 Sleepeezee Immerse 2200 Plus
2200 pocket spring system Pillowtop to increase softness and comfort Staycool gel dual layers to aid temperature regulation Reflex foam layer to cushion and support your body ViroFresh technology that kills 99.9% of bacteria and viruses on contact for a more hygienic night's sleep Firm Comfort feel Choice of base colours FREE delivery and assembly in room of choice Headboard not included
---
Sleepeezee Poise 3200 Plus
Easy care non-turn mattress that saves time and effort. Approved by the Good Housekeeping Institute Pillowtop to increase softness and comfort Staycool gel dual layers to aid temperature regulation Reflex foam layer to cushion and support your body ViroFresh technology that kills 99.9% of bacteria and viruses on contact for a more hygienic night's sleep Medium / Soft Comfort feel Choice of base colours FREE delivery and assembly in room of choice Headboard not included
Sleepeezee Balance 1200 Plus Mattress
1200 pocket spring system StayCool layer keeps you cool and fresh all night long. Fully encapsulated spring unit provides edge to edge support ViroFresh technology that kills 99.9% of bacteria and viruses on contact for a more hygienic night's sleep Firm Comfort feel FREE delivery and assembly in room of choice
---
Sleepeezee Immerse 2200 Plus Mattress
2200 pocket spring system Pillowtop to increase softness and comfort Staycool gel dual layers to aid temperature regulation Reflex foam layer to cushion and support your body ViroFresh technology that kills 99.9% of bacteria and viruses on contact for a more hygienic night's sleep Medium Comfort feel FREE local delivery and assembly in room of choice
Sleepeezee Poise 3200 Plus Mattress
Easy care non-turn mattress that saves time and effort. Approved by the Good Housekeeping Institute Pillowtop to increase softness and comfort Staycool gel dual layers to aid temperature regulation Reflex foam layer to cushion and support your body ViroFresh technology that kills 99.9% of bacteria and viruses on contact for a more hygienic night's sleep Medium / Soft Comfort feel FREE delivery and assembly in room of choice
Sleepeezee Categories